february 28, 2018
Blood orange season is mercifully brief. Don't assume I dislike this deep red tart fruit, but its short run at the markets assures that I indulge while available and pine for its presence once it disappears from the market shelves. I like seasonality and I like to miss things and not take them for granted. Moro oranges are like that for me. I suppose I could purchase the juice in a jar, but then I would miss the opportunity to slice into ruby flesh and fill my kitchen with the unmistakeable aroma of winy blood orange.
My taste in cocktails runs to the mix of citrus and heat, and not too sweet. Adding a bit of pure apple cider vinegar cuts the sweetness factor in this colorful cocktail; omit if you like sweeter beverages. A good quality vodka will make this drink sing. Right here in Richmond, artisanal Cirrus Vodka is crafted from potato, naturally gluten free and most definitely smooth enough to sip. Looks like a visit to the plant is in order this year. I have found a new favorite and plan to experiment on willing guests.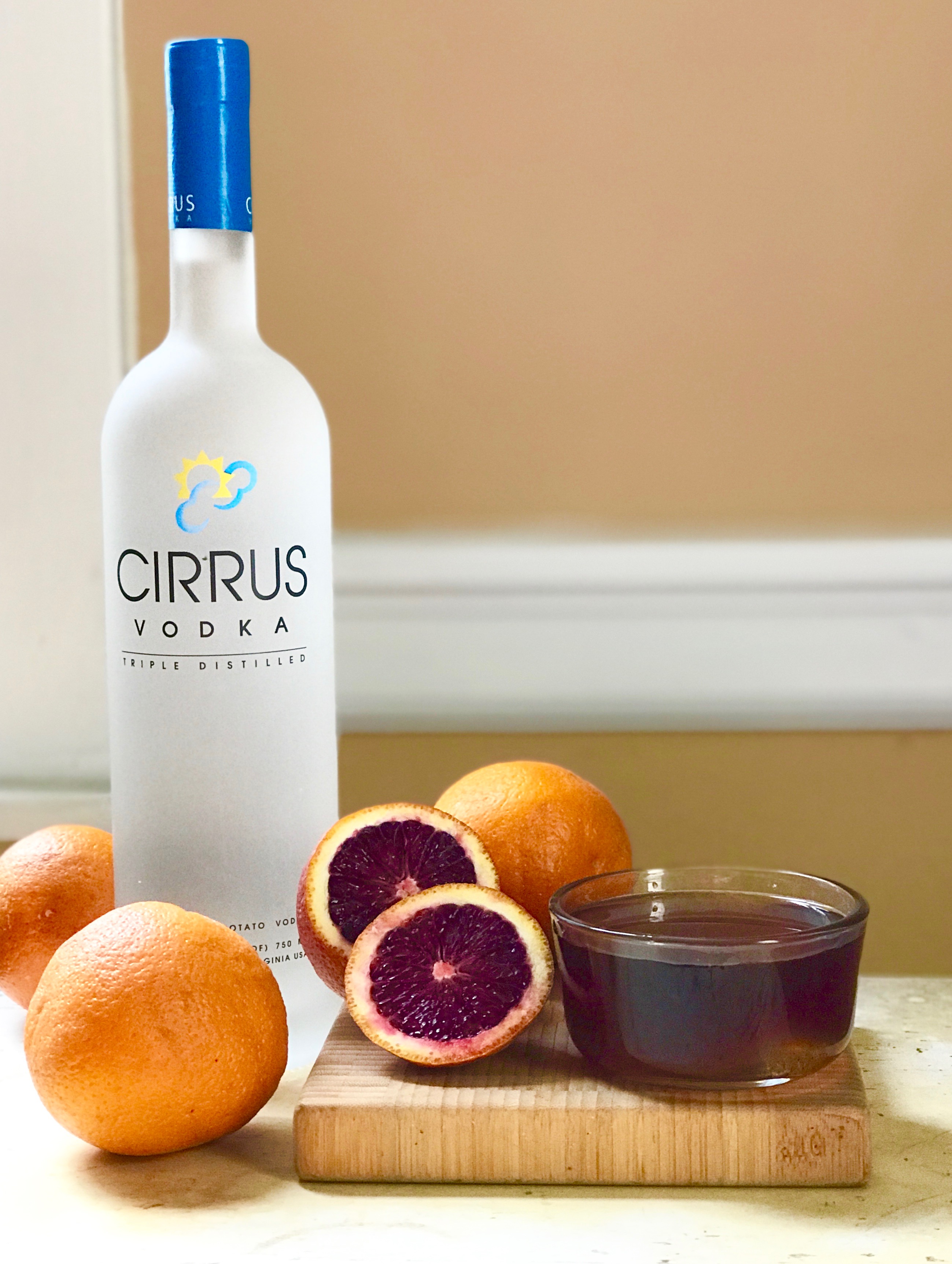 The black pepper simple syrup is easy to make and keeps well in the fridge for both cocktails and nonalcoholic beverages. A lively addition to your iced  tea, lemonade or fizzy seltzers, black pepper syrup can be made milder with an overnight steep of the peppercorns, and more potent with a longer visit in the syrup if you like spice in your life. Coarsely crack the peppercorns with a heavy rolling pin, or use my culinary school trick of mashing them with the bottom of a heavy skillet on a wooden cutting board.
Serve Blood Orange Black Pepper Cocktail on the rocks, or shake with ice in a jar or cocktail shaker, straining into a pretty glass. Top with a thin slice of blood red citrus and enjoy this seasonal jewel.
Blood Orange Black Pepper Cocktail
recipe by Michele Humlan, The Good Eats Company
recipe for one cocktail 
ingredients
2 ounces freshly squeezed blood orange juice, strained
2 ounces best quality vodka – I like Cirrus potato based vodka
1 ounce black pepper simple syrup (see below)
½ teaspoon pure apple cider vinegar – I like Bragg's
optional garnish : thin slice of blood orange
black pepper simple syrup
Combine 1 cup water and 1 cup sugar in small saucepan, stirring to melt and bringing to simmer; simmer for one minute and add 2 tablespoons coarsely cracked black peppercorns (Telicherry best) and chill at least overnight. Leaving the peppercorns up to one week will give a more potent syrup. Strain syrup and keep refrigerated up to one month.
directions
Combine blood orange juice, vodka, apple cider vinegar and black pepper simple syrup and serve over ice, or shake with ice and strain into glass.
If desired, garnish with thin slice of blood orange.