january 6, 2018
What to do with all that Christmas peppermint candy? Ice cream, that's what, even though frozen treats may not be at the top of your wish list with this chilly start to the new year. To that, I say eat more ice cream and allow your body's internal engine to crank up the heat for digestion of this all- season creamy dessert.
What peppermint ice cream really needs is a dose of chocolate. I've included a super easy recipe for homemade peppermint fudge, and if you can score some top quality buttery fudge at the store, use this instead if you're in a time crunch.. The advantage of making your own fudge is the leftovers. Leftovers are always good. Any peppermint candy will do for this recipe (candy canes, round peppermint candies or sticks) as long as they are smashed to bits. Large peppermint chunks will be jarring, and wreak havoc on your jaws. I used a heavy wooden rolling pin to smash the canes in a heavy plastic bag.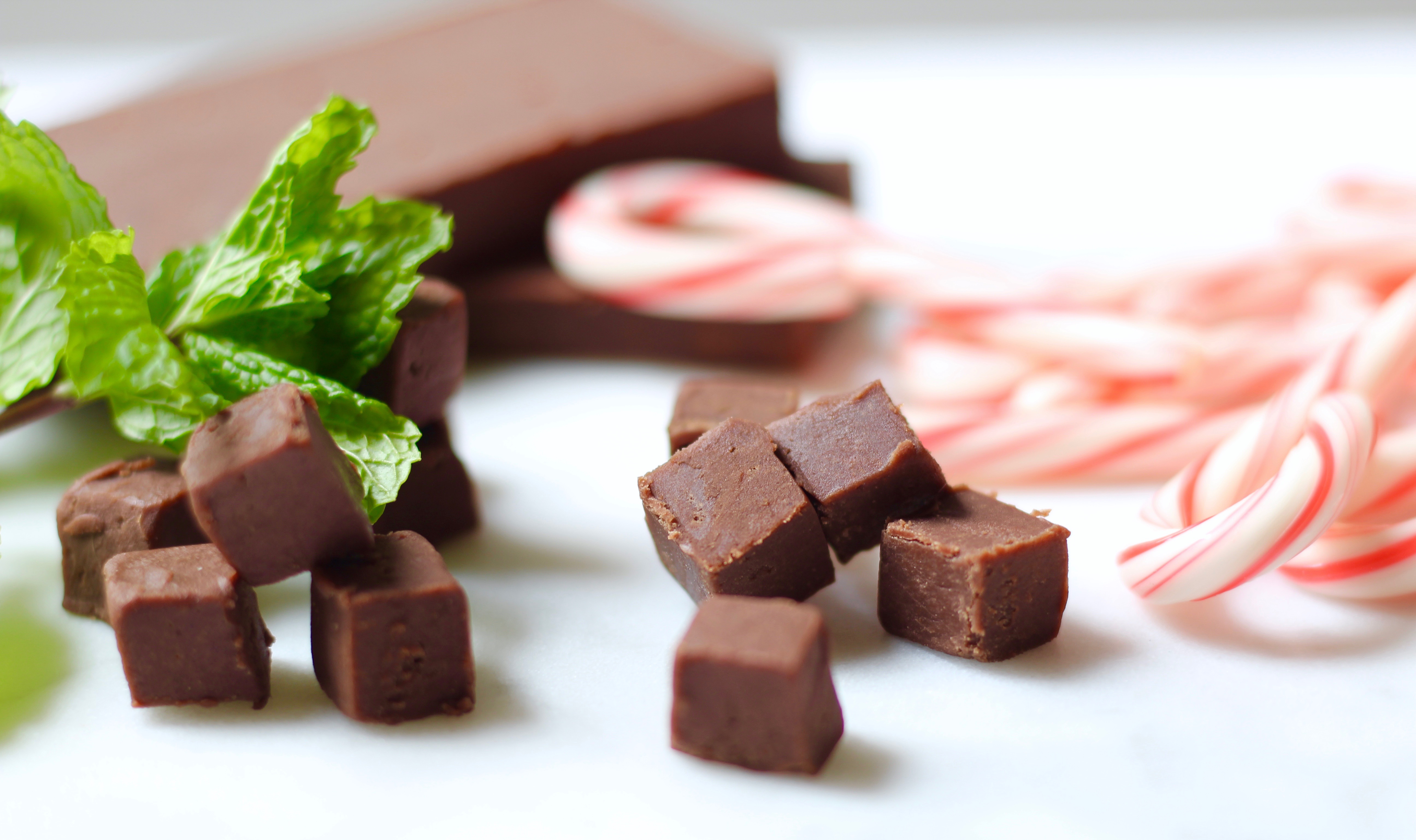 The making of the ice cream is a cinch : melt milk with sugar over low heat, add cream and vanilla, chill mixture and run through an electric ice cream machine. Then add the peppermint bits, and tiny cubes of fudge a couple at a time so they don't get into a connected mess. A few hours in the freezer to set, and you are ready to enjoy your frozen treat.
The only problem will be that leftover mint fudge. That's not really a problem, is it? If it is, I'll pay for shipping.
Peppermint Fudge Ice Cream
recipe by Michele Humlan, The Good Eats Company                                                                    
makes about one large quart of ice cream
ingredients for peppermint fudge
4 tablespoons unsalted butter
one cup sugar
3 cups mini marshmallows
½ cup heavy cream
½ teaspoon fine sea salt
12 ounces semisweet or dark chocolate chips
½ teaspoon pure peppermint extract
directions for peppermint fudge
Line 8 inch square pan with foil and spray foil lightly with cooking spray.
Combine butter, sugar, mini marshmallows, cream and salt in heavy two quart saucepan over medium low heat, stirring frequently until marshmallows are melted, about 6-10 minutes total; avoid boiling.
Off heat, stir in chocolate and mix gently until all is melted.
Add mint extract, then pour mixture into prepared pan.
Let sit at room temperature in a cool spot away from heat or sunlight until set, several hours or overnight.
Cut tiny ¼ inch cubes to lightly fill 2 cups; don't pack down;you will use about half the fudge..
ingredients for ice cream
1 ¼ cup sugar
1 cup whole milk
3 cups heavy cream
1 teaspoon pure vanilla extract
½ cup finely crushed peppermint candies : canes, mints or sticks*
2 loosely packed cups mint fudge (see recipe above for homemade), cut into ¼ inch cubes
optional garnish : sprigs of fresh mint or mini candy canes
* I used a heavy wooden rolling pin to crush the candy in a heavy plastic freezer bag
directions for ice cream
In  one quart nonreactive heavy saucepan, mix sugar and milk and stir over medium low heat just until sugar is melted.
In large nonreactive container, mix sweetened milk with cream and vanilla and refrigerate until well chilled, at least 6 hours or overnight.
With electric ice cream maker running, add this mixture and process until beginning to thicken, about 15-20 minutes.
Add peppermint candy bits quickly but gradually, then add most of the mint fudge bits, a couple at at time to avoid clumping, then once mixture has thickened well and motor seems to slow, turn off machine and add remainder of fudge bits. If your mixture gets thick quicker, you may be able to only add about half the bits before needing to stop the machine – just add the rest once it stops.
Freeze ice cream at least 6 hours or overnight until set.
Garnish servings if desired with mini candy canes or mint sprigs.