november 6, 2019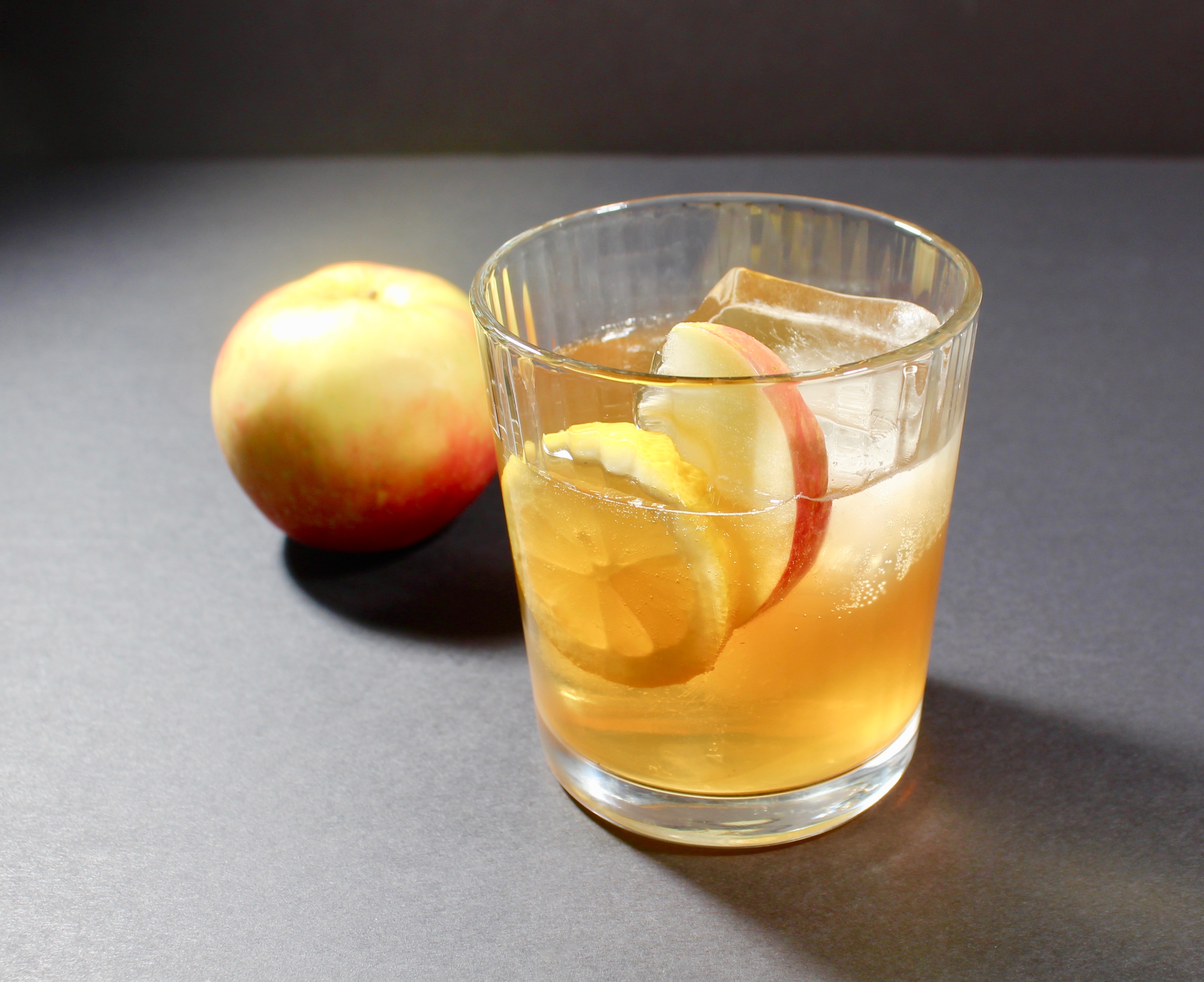 When you live in a state that boasts of the world's apple capital (Winchester, Virginia), you stock up on as many apples and apple products like fresh cider and apple butter as you can during the peak season. Hoping to craft a cocktail with apple essence, I roamed the aisles of the local liquor store and found not one, but several, brands of Virginia apple brandy. The friendly sales clerk schooled me in the difference between applejack (apple plus grain spirits with a lighter flavor profile) and apple brandy ( apple cider aged and possessing a rich depth). Woods Mill Distillery in Faber, Virginia, produces a fine smoky tasting apple brandy which was used for today's autumn cocktail.
My friend the talented amateur mixologist made a delightfully refreshing mule a few weeks back. That predinner drink was the inspiration for my seasonal cocktail. I suppose you could place this beverage in the mule category : alcohol, ginger beer and citrus. But, oh, that apple brandy with its dark amber sweet heat—not as sharp as vodka and a perfect partner for the lightly sweet ginger beer. Not your average mule.
There are two versions for this fall libation. Having tried both, I can recommend them based on your preferences. If you like a cocktail sweeter than average, make the lemon simple syrup which is a good fridge keeper and can be used again and again for all manner of drinks both potent and non-alcoholic. If sweet turns you off, simply use fresh lemon juice and let that fizzy tickle of the ginger beer be your only hint of sugar.
Cheers to autumn and sweater weather!
Apple Ginger Cocktail
recipe by Michele Humlan, The Good Eats Company
makes one beverage
ingredients 
2 ounces apple brandy, chilled
lemon – either 1 tablespoon fresh lemon juice for lightly sweet or 1 tablespoon lemon simple syrup for slightly more sweet*
chilled ginger beer
optional garnishes : thin slices of lemon, thin slices of apple
* lemon simple syrup – bring to simmer 1 cup each of sugar and water in nonreactive small saucepan with the peeled zest (in strips) of one large lemon and 1/4 cup fresh lemon juice; simmer one minute, then when cooled to room temperature remove lemon zest and chill syrup well; lasts in fridge for weeks
directions
If using lemon simple syrup, make at least one day ahead and chill well.
In cocktail glass mix apple brandy with either fresh lemon juice or lemon simple syrup.
Add ice cubes, then top with ginger beer.
Garnish as desired.