march 20, 2015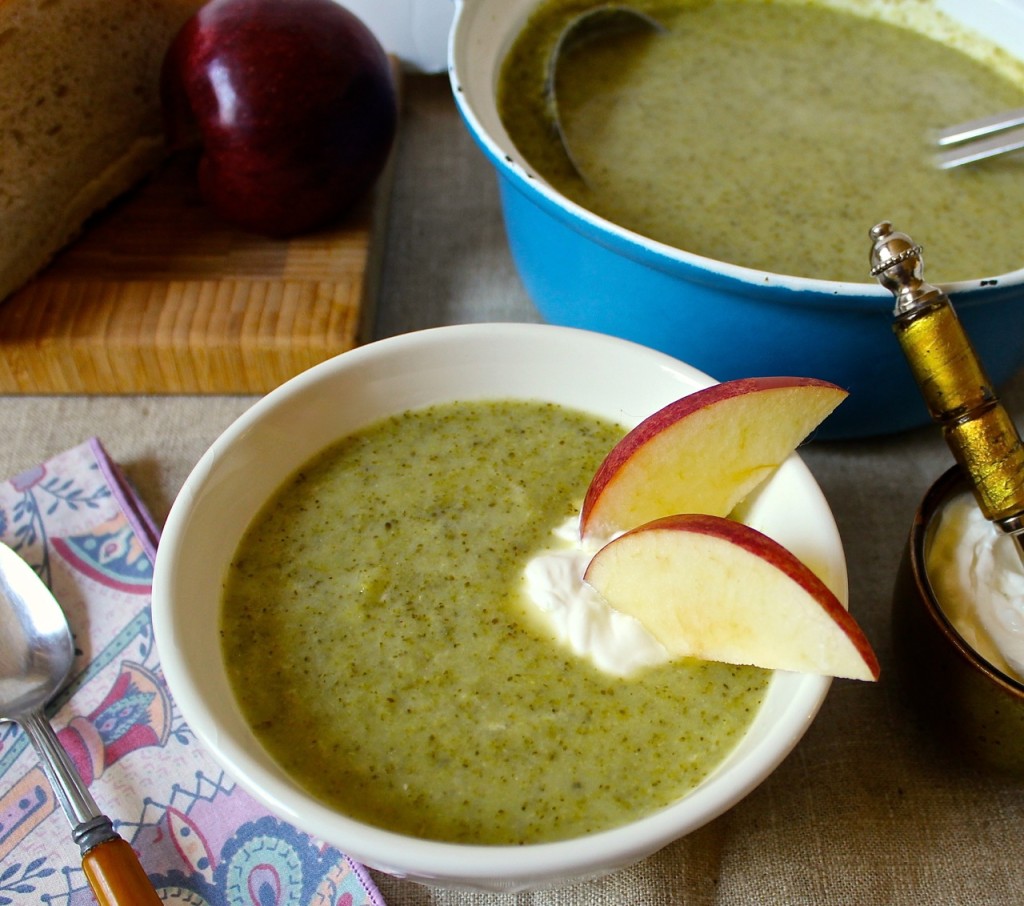 During this week's Saint Patrick celebration (why just one day?), some folks enjoyed green beer. Here is a recipe for broccoli apple ale soup that provides your serving of greens in a more natural manner, with locally brewed beer for good measure.
For the most recent Little House Green Grocery Sunday Supper, I served tiny cups of this soup garnished with dollops of Old Church Creamery Greek yogurt and smoky apple wafers. Flavorful, thick and slightly toothsome from the bits of broccoli floret, this soup can stand alone without decoration and would even be tasty served at room temperature.
For the Little House dinner, I used a red ale, but today opted for a white Belgian ale from Port City Brewing Company in Alexandria, Virginia called "Optimal Wit". Clean and clear, it won't muddy the broccoli color and will serve as a nice counter note to the sweet apple.
Pureed soups are a snap to make with an immersion blender, eliminating the messy step of transfer to a blender or food processor.  Once you get the hang of it, splatters are non-existent. A sturdy stick blender has got to be my most favorite kitchen toy.
This soup would go well with grilled goat cheese sandwiches, or make a meal coupled with fall harvest salad or citrus napa cabbage salad. Any way you serve it, broccoli apple ale soup is satisfying on a chilly day and will nourish  you almost as thoroughly as a mug of green beer.
Broccoli Apple Ale Soup
recipe by Michele Humlan, The Good Eats Company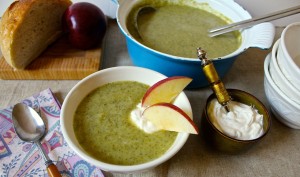 makes four to six servings
ingredients
one cup sweet onion, finely chopped
2 tablespoons unsalted butter
fine sea salt
finely ground white pepper
one pound chopped broccoli (about two large crowns)
one large apple, peeled and chopped (about 8 ounces unpeeled)
6 ounces potato, peeled and chopped (about one large red potato)
12 ounces pale ale
3 cups best quality vegetable or chicken stock
optional garnishes : sour cream or Greek yogurt, thin slices of apple or apple chips
directions
In heavy two quart saucepan, melt butter with onion and ¼ teaspoon sea salt and a pinch of white pepper over medium heat.
After mixture begins to sizzle, turn to medium low and cook, stirring frequently, until onion is soft and translucent, about 10 minutes.
Add broccoli, apple, ale and stock and bring to boil.
Reduce heat to simmer and cook uncovered, stirring occasionally, until broccoli is soft, about 25 minutes.
Puree mixture in pan with immersion blender, being careful of splatters (alternately, transfer soup in batches to blender or food processor and blend until smooth) and stopping when there are no visible solids.
Adjust seasoning and serve hot; this soups thickens considerably on standing and improves in flavor over the next few days.
Garnish as desired.
Soup may also be served chilled or at room temperature.