january 26, 2021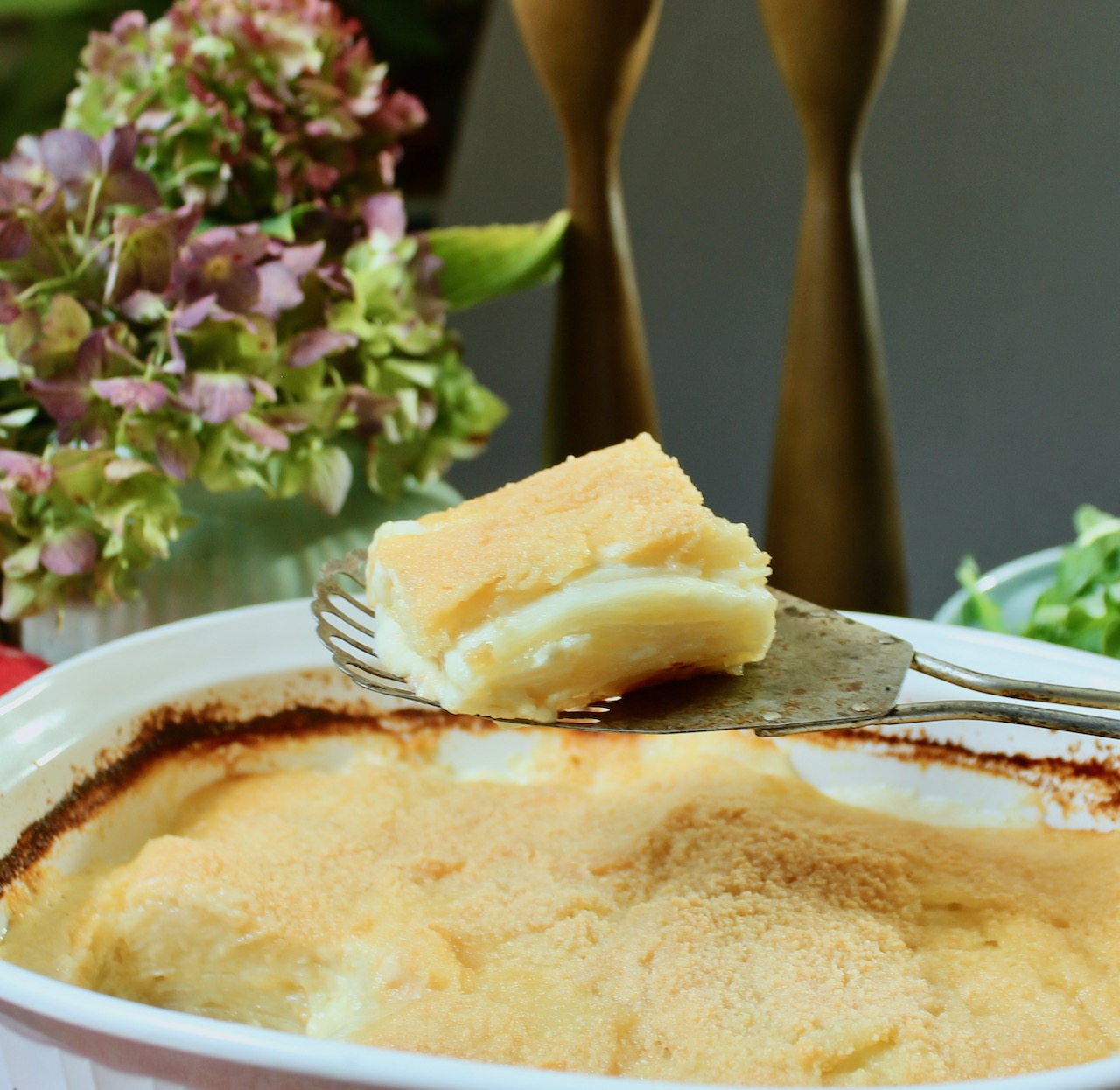 Set your priorities for the new year. What are your favorite foods and how will you incorporate them into your meal plan? Potatoes, Cheese and Chocolate are my top three and if I had to eliminate one it would be chocolate. Put potatoes and cheese together and watch me swoon. Breakfast, lunch and dinner could be this combination, in all its myriad forms. This white cheddar parmesan potato gratin is tasty hot, cold (I ate the leftovers for breakfast) and at room temperature. My dinner tasters got a little serving, too.
Potato Obsession Begins Early
Au gratin potatoes in my youth meant potatoes cooked on the stovetop in a thin sauce. It was a revelation to delve into issues of Bon Appetit Magazine in my learning years and discover hundreds of  potato gratin recipes all baked in the oven and loaded with cheesy sauce. My favorite became the potato dish with mustard and cheddar which graced many a dinner party table back when entertaining at home was my favorite leisure time joy and therapy. Even though I cook for a living now, putting together a nice meal for friends, albeit in a socially distant manner with outdoors setting these days, is still the most fun this chef can have.
A kitchen mandoline is handy for recipes like this where uniformly thin slices are pretty to behold. You don't  need a fancy metal French mandoline—a simple plastic version with removable slicing blades will do just fine. These lightweight kitchen workhorses are easy to clean and store. If there is a grater attachment, you can use it to shred your block of white cheddar. I am particularly fond of Cabot Creamery White Cheddar.
Potatoes with cheese, whether crispy like Manchego Potato Cakes, or tender like Herbed Creamy Potatoes, are my all-time favorite food combination. I'm hoping to make more of this cheesy Cheddar Parmesan Potato Gratin even if I'm the only guest on the dinner list. Next post will feature my third favorite food, just in time for Valentine's Day.
Cheddar Parmesan Potato Gratin
recipe by Michele Humlan, The Good Eats Company
makes 6-8 servings
ingredients
¾ cup heavy cream
¾ cup vegetable or chicken stock
medium clove garlic, zested on microplane grater
fine sea salt
2 pounds russet potatoes, peeled and thinly sliced (preferably mandoline)
8 ounces sharp white cheddar, shredded
1 cup finely grated Parmesan cheese
directions
Preheat oven to 400 degrees.
Spray heavy two quart casserole dish with cooking spray or use soft butter to grease dish.
Gently whisk cream, stock and garlic together in small mixing bowl.
Add one third potatoes to casserole evenly and slightly overlapping; lightly sprinkle with salt.
Add one half the white cheddar, then another third potatoes, sprinkling lightly with sea salt.
Add rest of cheddar, then rest of potatoes; best to save the prettiest slices for the top layer.
Pour cream mixture over potatoes evenly and press down potatoes with spoon.
Cover with foil and bake until potatoes are tender when pierced with knife, about one hour.
Scatter Parmesan cheese evenly on top and return to oven, uncovered, another 15 minutes.
Let rest about 15 minutes before serving ; may also be made ahead 2 days.
If made ahead and refrigerated, allow to come to room temperature at least 30 minutes and bake with very loose foil tent at 350 degrees for 30-40 minutes.