september 18, 2015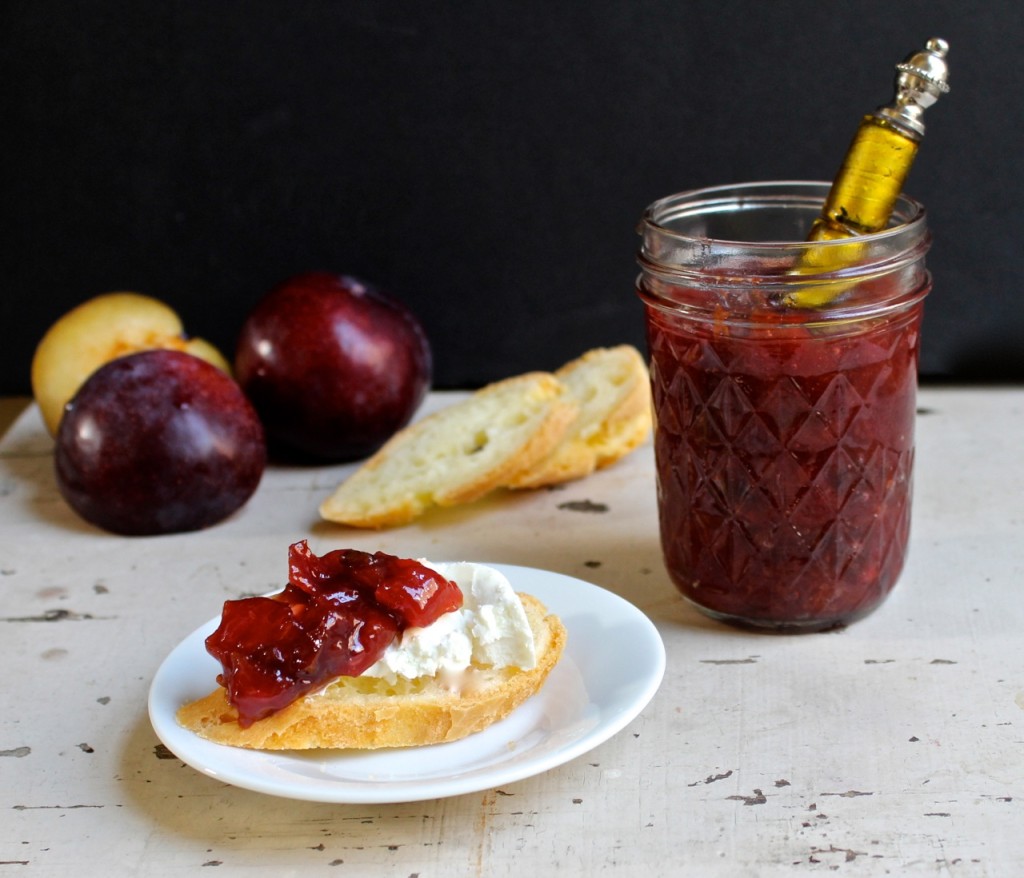 We've had a good run with stone fruits in Virginia this summer. The white and yellow peaches have been outstanding, softly perfumed and ripe for  eating straight from the farm stands. All colors and shapes of plums have tempted me with their beauty, but my favorite stone fruit was the squatty yellow donut peach, with its adherent stone and dense, sweet flesh. 
It's always hard to say goodbye until next summer, but I have a method for preserving the stone fruits of summer that does not involve cumbersome canning equipment. Chutney is easy enough to make (chopping and measuring, and that is that) and you must stay close by for the occasional stir. I make chutney all year long for clients of The Good Eats Company, with whatever the season yields : apple and pear in autumn, cranberry and pineapple  in winter, rhubarb in spring and usually by summer's end cooler nights will slow down the ripening of tomatoes still on the vine and I can score some green tomatoes for chutney at roadside stands.
My very best is ginger peach chutney; I crave it, but usually run out by late fall because of client requests.  This year I am adding plum chutney to the roster, and hope to keep some around for those chilly winter evenings when a sweet-tart reminder of summer is needed.
There is enough sugar and vinegar acidity in this chutney to allow refrigerator storage for months; as long as you use a clean spoon to remove your desired portions (and thus avoid contamination) you can skip the canning procedures and heat treatments. If you make a massive batch and run out of fridge storage space, by all means run the jars and lids through a heat treatment, with proper canning steps, so that your room temperature shelves will be stocked for the winter.
Chutneys make welcome host gifts and are handy at home for easy entertaining – cheese, crackers  and a little chutney topping those cheesy crackers and simple becomes elegant, with the operating word being simple, so that you may enjoy your guests and not fret over preparation.
Red plums were used to make this chutney, but feel free to improvise with any available stone fruit. I have used pluots, plumcots, peaches and apricots and while cooking times to the thickened stage may vary, the end result is a sweet, yet tart, condiment that goes well with the aforementioned cheese and crackers, grilled meats and seafood and as a topper for greek yogurt, cheese grits and hummus. Enjoy and start thinking of ways to put this versatile kitchen wizard to work.
Ginger Plum Chutney
recipe by Michele Humlan, The Good Eats Company
makes about three cups
ingredients                                                                       
2 pounds fresh plums, pitted and cut in ½ inch dice
2 tablespoons finely minced candied ginger
1 cup packed light brown sugar
¼ cup cane sugar
¾ cup apple cider vinegar
½ teaspoon ground ginger
directions
Combine all ingredients in a two quart heavy nonreactive saucepan, stirring until mixed.
Bring mixture to boil, then simmer gently uncovered, stirring occasionally, until thickened, about one hour.
Mixture should just bubble gently while cooking; it will thicken considerably after being chilled.
After cooling to room temperature, pack chutney in glass containers for storage and keep in refrigerator, using clean spoon to remove desired portions to avoid contamination.
Chutney will last in fridge for months; use canning methods if you lack refrigerator space.