may 26, 2017
Warm weather meals can be so simple to prepare and often involve assembly only, with perhaps a little grilling or searing on the side. That's what this meal is all about. Taking advantage of the local, the seasonal and the colorful, with some pre-meal searing of a versatile and very tasty cut of well-marbleized pasture raised beefsteak. Bruce and Katherine Johnson of Dragonfly Farms raise grass fed cattle and pastured lamb on the rich grassland surrounding Richmond in Louisa County, Virginia. The family is a familiar presence at local farmer's markets, most recently at the reborn Tuesday afternoon Birdhouse Market (formerly the Byrd House, just a short way from its present incarnation) and always at the cozy Saturday market gathering in picturesque Ashland. See the article on Beef Tamale Pie for my tour of farmland with Bruce where I was privileged to watch happy, grass-munching cows in action, doing their bovine thing in sunny fields where the only sound besides birdsong was the rhythmic chewing of contented Belted Galloway and Angus cows.
At a recent Birdhouse gathering trip, Amy's Garden had bright red orbs of radishes in bunches and peppery arugula leaves in bags. An idea for salad was born. Rounding out the local aspect, puckery and fragrant red wine vinegar from Virginia Vinegar Works could be the only partner in the vinaigrette, tart and winey to complement the seared steak and blue cheese crumbles, but not so stringent as to detract from the salad components.
There are several ways to do justice to the perfect strip steak , as long as you make the decision ahead of time that you will not—repeat, not— overcook this steak even if you prefer your meats well done. Medium rare will give superior flavor and texture here. A few minutes on each side on the grill, in a cast iron grill pan or, in my case, in a hot cast iron skillet that must be at least a century old since it was inherited and loved into completely seasoned sainthood, black and glossy with love and age. My secret is a pinch of brown sugar on one side of the steak, not to make it taste sweet but to enhance the natural caramelization of beef when cooked at high temperatures. Generous salting and peppering prior to cooking will support the notion that seasoning some foods after cooking only makes them taste salty, or too peppery; season as you go and you will be pleasantly surprised at the wake-me-up flavor of a beautiful cut of meat. This half pound steak will feed two when cut across the grain into thin slices after resting, but if you are super hungry the salad can be for one.
Any time the air becomes too sultry for actual cooking, that is, slaving over a hot oven or stovetop for more than just a few minutes, it's salad-as-meal time in my book. This meal is one for the books.
Steak and Blue Cheese Salad
recipe by Michele Humlan, The Good Eats Company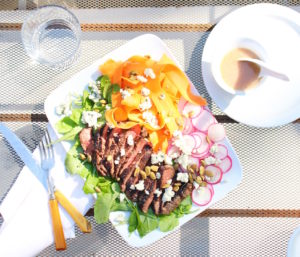 serves one or two
ingredients
for the vinaigrette :
one tablespoon finely minced shallot
one teaspoon Dijon mustard (smooth, not grainy)
pinches of fine sea salt and ground pepper
2 tablespoons red wine vinegar – I like Virginia Vinegar Works
3 tablespoons extra virgin olive oil
for the salad : 
one 8 ounce New York strip steak, preferably grass fed, room temperature
kosher salt
finely ground white or black pepper
½ teaspoon light brown sugar
one tablespoon neutral oil like canola or grapeseed
one large carrot, trimmed and pared, shaved with Y-shaped vegetable peeler
4 radishes, very thinly sliced (mandoline is handy here)
2 large handfuls of arugula
2 tablespoons dry roasted unsalted pistachios
2 ounces of blue cheese
directions
For vinaigrette, whisk all ingredients together in small bowl and set aside; may be made up to 2 weeks ahead.
Season steak well with kosher salt and pepper on both sides, then rub light brown sugar on side to be seared first.
Heat cast iron pan over high heat until it appears white hot in center, add neutral oil, wait a few seconds until it begins to lightly smoke, then add steak with brown sugar side down.
Sear about 3 minutes per side for medium rare, depending on thickness.
Allow steak to rest while salad plate is prepared : first, in small bowl toss arugula with about one tablespoon vinaigrette to moisten leaves, then arrange greens on plate with carrot ribbons and radish slices.
Cut steak in thin diagonal slices (across the grain), and fan out atop arugula.
Sprinkle blue cheese and pistachios on salad and offer remainder of vinaigrette for drizzling on top; you may have vinaigrette left over, and it keeps well in the fridge,
Serve immediately.
cook's tips
if desired, you can omit the brown sugar for caramelizing the steak
to make nice carrot ribbons, hold the carrot horizontally on the cutting board, and use a Y-peeler to swipe sideways and create thin slices of carrot
you can also use a cast iron grill pan or outdoor grill to cook the steak – adjust time as needed