may 24, 2013
The fresh local strawberries from Agriberry at the South of the James Farmer's Market presented me with a problem : eat them all up until they are gone, really gone, or make a tasty cocktail mix with cilantro and fresh lime juice?  I simply had to taste one, just one, and then another, and then…there were none left to make my spring beverage. So it's a good thing Little House Green Grocery carries Agriberry's strawberries, because my plan would have been foiled, as the market only comes around once a week and I had to strike while the berries are at their seasonal peak.
I never was a fan of cocktails (too sweet, I thought) until I began to enjoy the inventive and colorful beverages by the mixologists at Richmond's Acacia Mid-town.  Their cocktails contain seasonal ingredients, and occasionally something savory to throw you off a little, make you focus on how a cocktail can enhance your dining experience and not upset the balance with a cloyingly sweet syrupy start to the meal.  I am no mixologist and would not put my skills up for scrutiny by the masters, but I do like a cool beverage now and then, and something unexpected to boot.
My strawberry cilantro cocktail mix is a little different from others you will find in a search, since I don't strain out the tasty solids (and you may put up a fuss when you have to clean the glassware after indulging in a round of drinks with this mix) and the cilantro flavor is more assertive with using an entire bunch.  But, like most recipes, there is room for variation and you are welcome to adjust the sweetness, reduce the cilantro, use other alcoholic beverages besides tequila or omit alcohol and add the mixture to sparkling water, lemonade or iced tea.  Refreshing no matter how you pour.
I would use a decent tequila that is pure agave and not "mixtos", which has other sugars added to make up the absence of the agave plant.  Reposado and anejo tequilas, both aged nicely, do well with this recipe, giving a smooth, smoky vibe to the mix.  I offer you two versions, one with sparkling water and one shaken over ice and served in a salt rimmed glass; the latter resembles a margarita, but without the addition of an orange flavored spirit it cannot technically be labeled as such.  No worries – your guests will be happy with this libation!
The cocktail mix will last in the fridge up to one week; just give a good stir and create magic.  It goes without saying that best quality berries – local, preferably – will give best flavor.  Start with 3/4 cup simple syrup and add more if you have a sweet tooth.  I tried the cocktail mix over vanilla ice cream and swooned.  Enjoy this spring treat and share your thoughts!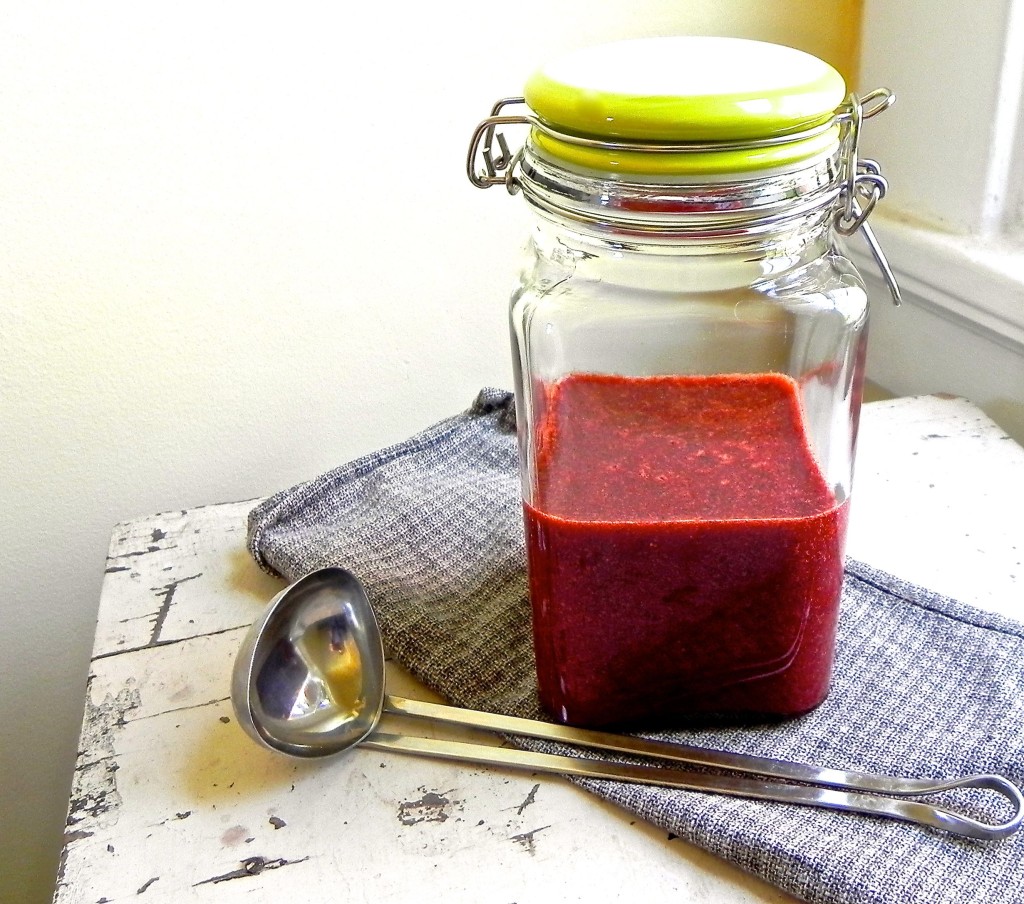 strawberry cilantro cocktail mix
recipe by Michele Humlan, The Good Eats Company
makes about 3 1/2 cups
one quart strawberries, preferably local and/or organic, cleaned and stemmed
one bunch cilantro, cleaned and dried
juice of two limes
3/4 to 1 1/4 cup chilled simple syrup
(bring 1 1/4 cup each water and sugar to boil, stirring, and boil one minute)
directions
Combine strawberries, cilantro, lime juice and 3/4 cup simple syrup in high speed blender and blend until mixture appears smooth.

Add more simple syrup to taste ( I use the full amount, as the sweetness reduces with the addition of alcohol and/or other liquids).
strawberry cilantro cocktail #1
3 ounces chilled strawberry cilantro cocktail mix
2 ounces tequila – I like Lunazul reposado
cut lime
kosher salt
directions
Rub cut lime around rim of martini or other glass, and dip glass in kosher salt.

Combine cocktail mix and tequila with ice cubes in clean glass jar or cocktail shaker and give a good shake.
Strain mixture into salted glass and garnish with lime wedge.
strawberry cilantro cocktail #2
3 ounces chilled strawberry cilantro cocktail mix
2 ounces tequila – I like Lunazul reposado
sparkling water, chilled

cut strawberries
directions
Combine cocktail mix with tequila and pour over ices cubes in tall glass.

Top with sparkling water, stir and garnish with cut strawberry.