may 15, 2015
Recipe inspiration comes from many sources. A dish enjoyed at at restaurant. A glistening bowl of spicy roasted vegetables glimpsed in a magazine. A revamp of a vintage recipe from my trove of family cookbooks.
Occasionally, a friend will send a recipe electronically, thinking I might enjoy making it for clients of The Good Eats Company, or for friends and family. Today's recipe fits in that last category. A recipe for vegan mango cheesecake led me to some serious kitchen tinkering, first with the filling as a dense mango cashew mousse, and then as a vegan, raw chocolate cashew cheesecake. No pun intended, but vegans get a raw deal when it comes to desserts, since so many sweets contain butter and eggs. I would imagine the craving for something creamy at the end of a meal, or at a celebration, is not always easily satisfied. Folks who are lactose intolerant face the same dilemma.
Enter this simple dessert which requires a sturdy large bowl food processor, an overnight soak of raw cashews and patience to allow the filling to set before devouring. Sweetened with honey, the filling gets a tart tweak from ripe mango.
The crust is also quickly made with the food processor, turning raw almonds, dates, honey and a pinch of cocoa into a sturdy base for the rich interior. Garnish with vegan whipped cream made with canned coconut milk, or if dairy is not an issue, use the real thing.
Dessert lovers of all dietary stripes will love this dessert. Cooks will love the ease of preparation and  a kitchen that stays cool – no oven needed. Your guests will love it, and you, for making it!
Vegan Chocolate Cashew Cheesecake
adapted from Ulyana Michailov                  
makes twelve servings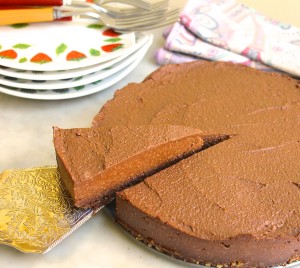 ingredients
for crust
1 cup raw almonds, skin on
1 cup pitted dates
2 tablespoons honey
1 tablespoon unsweetened cocoa powder
pinch of fine sea salt
for filling
2 ½ cups raw cashews, soaked overnight in water to cover and drained well
¾ cup coconut oil – I like Spectrum or Dr. Bronner's
½ cup full fat canned coconut milk
¾ cup honey
2 ripe Ataulfo mangoes, peeled and chopped (or one large other mango)
2 teaspoons pure vanilla extract
¾ cup unsweetened cocoa powder
optional garnishes : vegan whipped cream or lightly sweetened whipped cream
directions
Spray bottom and sides of a 9 inch springform pan with cooking spray.
In bowl of large sturdy food processor, process all crust ingredients until well combined but still slightly chunky in texture.
Pat crust mixture tightly onto the bottom of the springform pan.
In the same food processor, which has been wiped clean, place soaked cashews, coconut oil, coconut milk,  honey, mangoes and vanilla and process several minutes until smooth; there will be some graininess from the cashews, which will give appealing texture as it sets.
Add the ¾ cup cocoa powder and process until cocoa is incorporated, stopping several times to scrape down sides of bowl.
Use spatula to place filling in the pan, and chill overnight and up to one week to set.
To unmold, first run thin flexible knife or pastry scraper around the edges and then carefully remove the side band.
Cake is easiest to cut in the chilled (or frozen) state, but servings need to sit at room temperature for 20-30 minutes for optimal creamy texture.
Garnish as desired with vegan or regular whipped cream.