june 26, 2015
The ideal scenario for summer outdoor dining and entertaining may be summed up in several steps. Throw something on the grill. Steam some ears of local corn (or grill them, as in grilled corn and sugar snap pea salad). Toss a simple salad. Serve something chilly for dessert – ice cream, gelato or sorbet.
Watermelon can be a major player in this meal plan, either as your side dish or as the sweet ending to a meal enjoyed with friends or family on a balmy summer evening. Cue the fireflies, tree frogs and crickets to make the scene complete and ideal. And an outdoor fan to shoo away the mosquitoes.
Watermelon salads are a colorful and welcome change to the usual tossed greens. Pretty on the plate by themselves, melon slices are amped up several notches by draping them with a sweet or savory make-ahead sauce or vinaigrette. Lemon caper caesar dressing would be a perfect partner for ice cold watermelon chunks, and a simple mustard shallot vinaigrette would do wonders for a melon deemed not quite sweet enough on its own.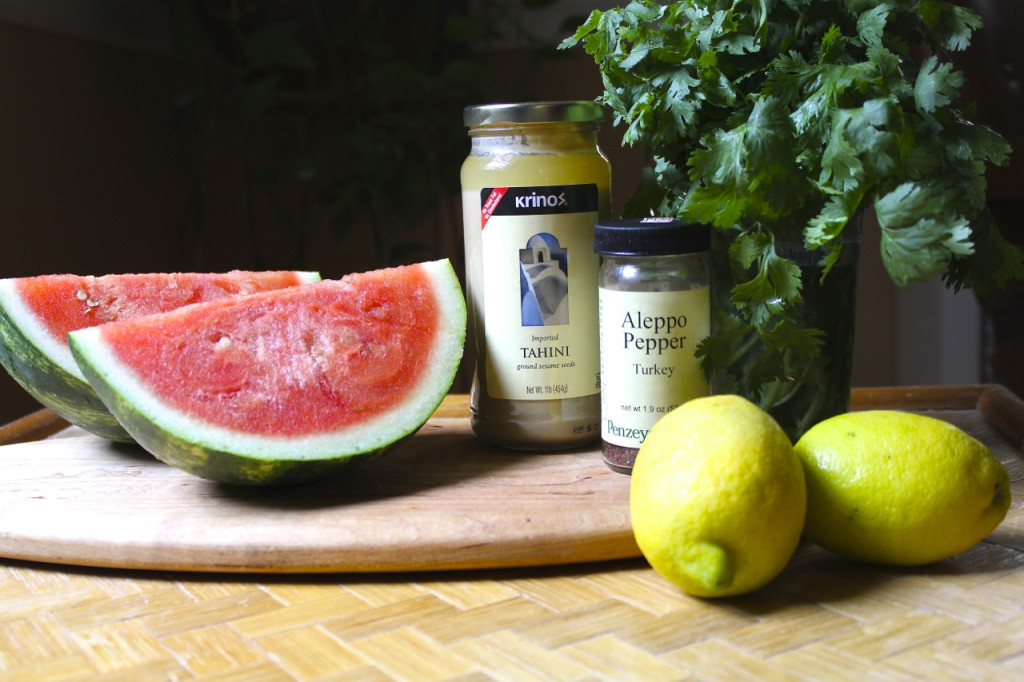 This spicy tahini sauce may be made up to a week ahead. It thickens considerably with chilling, so adding water one teaspoon at a time until it reaches drizzling consistency is all the labor you will perform besides slicing the melon at serving time. I love flakes of aromatic Aleppo pepper, more floral yet powerfully spicy like crushed red pepper flakes. If you can't find the former, the latter makes a fine substitute, but use less since the seeds will impart more fire.
If you are one of those folks who dislike cilantro, use parsley or another green leafy herb like basil. Here's to easy summer living, and dining.
Watermelon with Spicy Tahini Sauce
recipe by Michele Humlan, The Good Eats Company                        
serves four
ingredients
4 tablespoons tahini
juice of one medium lemon
¼ teaspoon kosher salt
1 medium garlic clove, zested or minced
¼ cup finely minced fresh cilantro
1 teaspoon Aleppo pepper flakes
2 ½ tablespoons water
12 slices chilled seedless watermelon, about one inch thick
optional garnishes : cilantro leaves, edible flowers like nasturtium
directions
In small bowl, combine tahini with lemon juice, salt and garlic, mixing well to remove any lumps.*
Add Aleppo pepper and cilantro, then water, adding a little more if you like a thinner consistency.
Use sauce as is immediately or store in refrigerator up to one week; at serving time, add water one teaspoon at a time until drizzling consistency (it will thicken with chilling).
Plate watermelon slices and drizzle sauce.
 Garnish as desired.
* Tahini sesame seed paste is very thick due to settling, so stir jar well with fork until oil is incorporated and you are able to measure with tablespoon.