june 24, 2016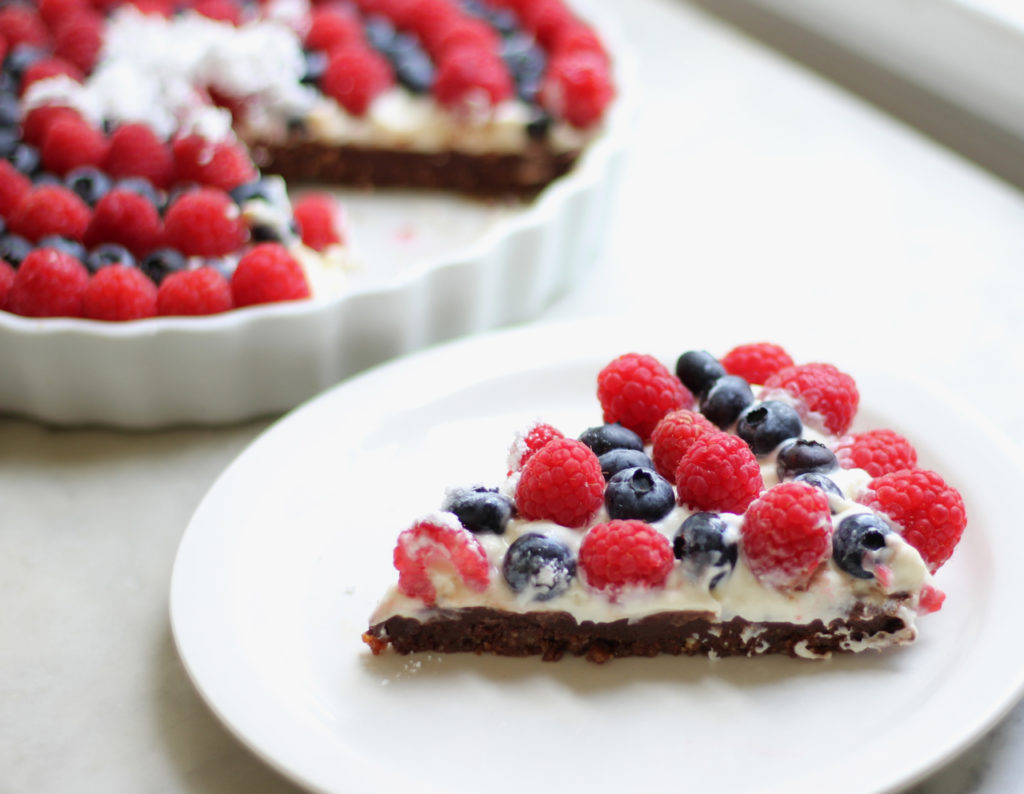 It's almost time to do your patriotic duty and eat something red, white and blue. Naturally, summer's berries will cover the red and blue, so let's add something creamy like thickened and lightly sweetened Greek yogurt to cover all bases.
And then…oh, why not? Chocolate may not be part of the color scheme, but it sure does liven up nearly any sweet treat. Not sold yet? Here is another reason to love this tart : no cooking and generating heat in the kitchen, unless you count the few seconds it takes in the microwave to make a ganache base. Want one more bit of information to seal the deal? Besides the sugar in the dark chocolate, there are no other sweeteners except honey and dates.
Any Greek yogurt will do, but if you're lucky and have access to locally made super thick and creamy Greek yogurt (see my story about how Old Church Creamery's Greek yogurt makes a nice berry trifle), go for that over commercial brands. A strain overnight will make it thick enough to form a more sturdy base for the berries.
The tender crust is made with dates, walnuts, coconut oil, cocoa powder and honey. Gotta have a food processor for this, or your labor will be too intensive. Semisweet chocolate chips, which we always seem to have around the house, combine with heavy cream to make a delectable layer of chocolatey creaminess. Honey sweetened strained yogurt will go atop the ganache and then you pop some pretty red and blue berries for the roof. For an extra patriotic burst, feel free to add a powdered sugar star in the middle. With that cute trick, I cut out a star on parchment paper, using a star-shaped cookie cutter for my template, and draped the paper across the tart while I sprinkled, heavily, some sifted confectioner's sugar.
There are only two drawbacks to this lovely tart. You can strain the yogurt ahead, but the tart tastes best on the day it is made, so the most you can make it ahead is the morning you plan to serve. The only other glitch is that you must make it all gone the day it is made. Wait, is that really a bad thing?
Chocolate Berry Tart
recipe by Michele Humlan, The Good Eats Company                
makes eight servings
ingredients
2 cups plain Greek Yogurt (strained overnight in mesh colander or cheesecloth)
honey – total of 2 tablespoons, divided
½ teaspoon pure vanilla extract
1 cup pitted dates
1 cup raw walnuts (untoasted)
1 tablespoon unsweetened cocoa powder
1 tablespoon coconut oil (solid preferable)
fine sea salt
1 cup semisweet chocolate chips
½ cup heavy cream
12 ounces raspberries
1 pint blueberries
optional garnish : confectioner's sugar
directions
Add 1 tablespoon honey and vanilla to strained yogurt (may be made ahead 1-2 days).
In bowl of large food processor, finely chop dates with walnuts, coconut oil, cocoa powder and a pinch of salt.
With machine running, drizzle 1 tablespoon honey and process until all is mixed well.
Pat crust onto bottom and partly up sides of 9 inch tart dish.
In glass bowl, combine chocolate chips with heavy cream and microwave on high heat for one minute, stir, then microwave another 15-20 seconds until creamy, stirring to remove lumps.
Spread ganache over crust and freeze until set, about 15 minutes, or refrigerate until set, about 30 minutes.
Spoon yogurt mixture atop ganache, and add berries in a decorative pattern (see pictures), placing close together.
If desired, top with powdered sugar in a star pattern (see article for method).
Tart is best served on the day it is made.