May 24, 2023
Blueberries are in season. Are you hungry for cake, pie or bars? This Lemon Blueberry Cheesecake Bars recipe has all those wishes covered. Crust and filling like a pie, tangy lemony cream cheese middle like cheesecake. Equally important, this spring dessert is crafted as bars to cut whatever size serving your heart desires.
Sadly, my heart desires the whole darn dessert. Fortunately, I have valued Official Tasters who give superior advice about recipe particulars. They keep me from gorging on sweets. And they are honest. I have listened and I have complied. My aim is to please.
This creamy dessert with a buttery crust and crumbled topping will keep in your refrigerator up to one week. Freezer storage is not recommended, but I cannot imagine this is a major hurdle.You will need your electric mixer (or hand blender) to make the cheesecake filling. Otherwise, a sturdy set of hands will make this sweet treat happen.
Blueberries and lemons are super compatible. The tart floral aroma and taste of citrus brings the sweetness of berries to life. They are best buds. River City Good Eats has paired these two in both cake and pudding. Perhaps someday I'll add gelato to the collection.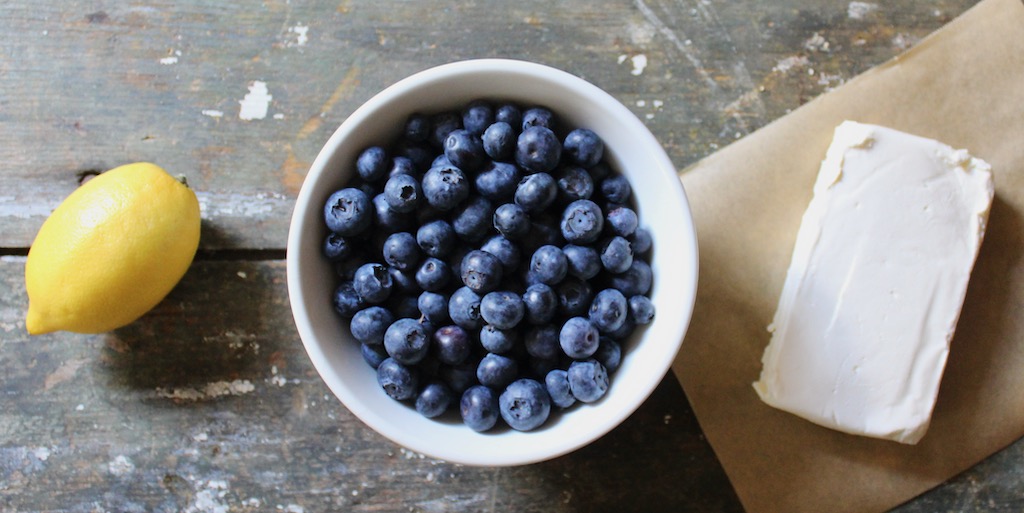 My favorite flour mix is King Arthur's Measure for Measure, a reliably consistent blend with a little added xanthan gum for stability. It takes the guesswork out of wondering how much XG to add. Naturally, all my baked goods recipes may be made with all purpose wheat flour, too. Here is the real test of gluten free flour : folks enjoying their serving of sweetness see no difference in taste or texture.
Lemon Blueberry Cheesecake Bars
recipe by Michele Humlan, The Good Eats Company
makes 9-12 servings
ingredients
1 ½ cups gluten free flour blend – I like King Arthur measure for measure*
¼ teaspoon fine sea salt
⅓ cup sugar
1 stick (8 tablespoons) melted butter, cooled to room temperature
8 ounces cream cheese at room temperature
¾ cup sugar
one large egg at room temperature
zest of one large lemon
3 tablespoons fresh lemon juice
1 teaspoon pure vanilla extract
one pint fresh blueberries (12 ounces)
* all purpose wheat flour also works well
directions
Preheat oven to 350 degrees.
Whisk together flour, salt and ⅓ cup sugar in mixing bowl.
Pour in melted butter and mix with fork until crumbly; set aside ¾ cup for topping.
Press remainder onto bottom and slightly up sides of 9 inch square baking pan.
Bake crust for 15 minutes to set, then set aside to cool while filling is made, maintaining oven temperature.
In same mixing bowl, wiped clean, beat cream cheese and ¾ cup sugar with electric mixer or hand blender.
Add vanilla, egg, lemon juice and zest, mixing until blended.
Pour mixture into slightly cooled crust, then top with blueberries.
Scatter reserved ¾ cup crumbs evenly across top, then bake about 45 minutes or until very lightly browned at edges.
Center should still be a little jiggly, but will firm with chilling.
Cool to room temperature, then chill in refrigerator at least four hours or overnight before serving.